Last year I saw a lot of bloggers participating in Armchair BEA and it looked like a lot of fun, so decided to join Armchair BEA this year. More information about this event you can read on the Armchair BEA site. Also as I live in the Netherlands attending the real BEA convention isn't really an option, but everyone can attend Armchair BEA.
So today is the introduction post, there is a list of question from which each blogger can choose 5 questions to answer, so here we go :). I'll answer the 5 questions I choose, you can view the whole list of questions here.
1. Please tell us a little bit about yourself: Who are you? How long have you been blogging? Why did you get into blogging? Where in the world are you blogging from?

Hi I am Lola, I am 23 years old and I live in the Netherlands. I live in an appartment building with my boyfriend, our four rats (Smarties, Snickers, Skittles and Pita), my sister and my sister's cat Miku. I've been blogging since february 2012 when I joined the blog K-Books as a co-blogger. In December 2012 I started my own blog Lola's Reviews. So now I am blogging for in total 2 years and 3 months and Lola's Reviews is 1 year and 6 months. I got into blogging when I started reviewing the books I read. I thought having a blog was really difficult, so I am glad I could join as a co-blogger and then learned a lot about blogging before I started my own blog. One of the things I love most about blogging is being able to share my opinions of books with other book lovers. I also love participating in the community and meeting new people who also love to read!
2. Describe your blog in just one sentence. Then, list your social details — Twitter, Facebook, Instagram, etc. — so we can connect more online.
Reviewing and talking about a wide variety of books.
And here are all my social media links
– Facebook
– Twitter
– Goodreads
– Google+

– Pinterest
– feed
– Bloglovin
I also own my own blog tour organizing company called Lola's Blog Tours, which you can find here:

– Website
– Facebook
– Twitter
– Bloglovin
– Feed
3. What was your favorite book read last year? What's your favorite book so far this year?
My favorite book I read last year is probably Released (Nogiku series #2) by SJ Pajonas, I loved the first book in that series, but I loved the second book even more and it got me in a book hangover when I finished it. It surpassed my expectations and I can't wait for book 3! You can see my list of best books I read in 2013 here.
My favorite book so far this year is a tie between Wild Justice (Nadia Stafford #3) by Kelley Armstrong and Face Time (Love in Digital Age #1) by SJ Pajonas.
4. What does your favorite/ideal reading space look like? (Pinterest encouraged!)
My favorite reading spot doesn't really look any special. There's this place on the sofa where I always it and I sort of consider it my space and I can't stand it when someone else's sits there. I usually sit there when I am reading and I always sit against the light blue pillow which even has a name: "Blauwzak". Which rougly translated means 'blue bag'. Here's a picture of my favourite reading spot.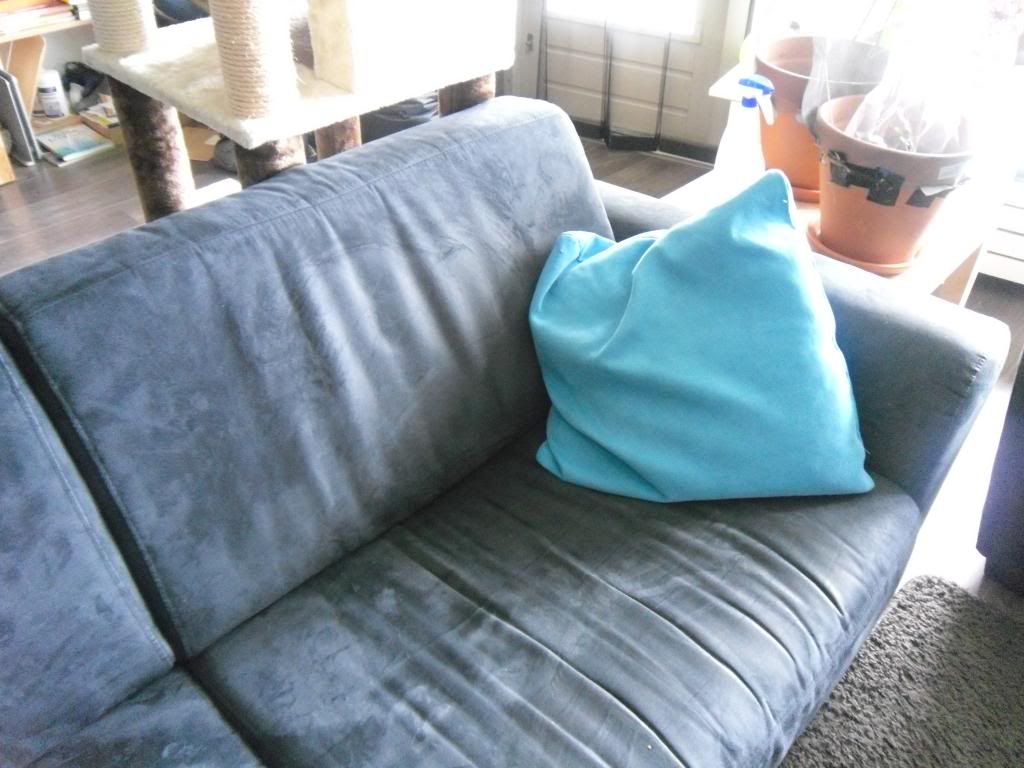 And here some books with one of my rats Skittles on my favourite reading spot: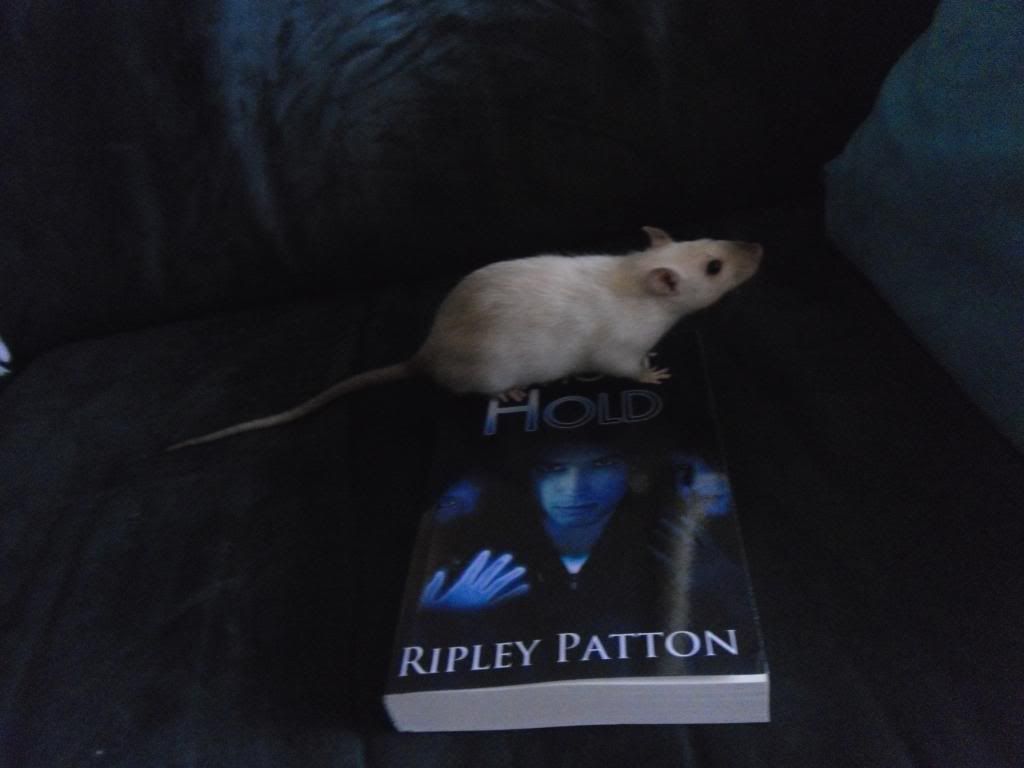 If you want to know more about our rats and see more pictures click here.
What my ideal reading space would look like is probably a window seat with some pillows. I once went on vacation to Scotland and in one of the places we stayed there was a window seat and it was the perfect reading space. I could look out of the window to our beautifull surroundings and I could read with a wall against my back. I would love to have a window seat. I also made a Pinterest board called awesome reading spots which you can check out if you want to.
5. What is your favorite blogging resource?
Okay this may sound weird, but my favourite blogging resource is Notepadd++. I make the html codes for most of my posts first in Notepadd++ and then copy and paste the code to my blog and add pictures. Beside that I don't use a lot of resources for blogging, mostly my own inspiration or materials provided to me by tour organizers and such for posts.
Are you participating in Armchair BEA this year? Or are you attending the real BEA convention? Tell me a bit about yourself or leave the link to your BEA introduction post!