The Sunday Post is a weekly meme hosted by Kimba @ Caffeinated Book Reviewer.
It's a chance to share News. A post to recap the past week, showcase books and things we have received and share news about what is coming up for the week on our blog.
What happened this week?
This was an okay week, pretty busy again, but in a good way. I again had quite some work for Lola's Blog Tours. There are 3 new tours open for sign-up this week and I even made the sign-up post draft for a tour that won't go live till september. If you want to know which tours are currently open for sign-up click here.
Beside that we went to the vet with our rat Skittles, she is acting a bit weird. She is very quiet and shaking her head sometimes, scratching her head often and she seemed a bit weak, she had trouble climbing for example. So we went to the vet with her and they think she has an ear infection in the inside of her ear, so we got some antibiotics and it should be better in two weeks. I really hope it helps :(. I feel so sad for her, she seems so down. We've been giving her some extra food she likes and take her out of the cage more often. It's so sad to see her having trouble navigating the cage, I really hopes she improves soon.
And my boyfriend and I started watching Star Trek: Voyager. We've seen 19 episodes so far and I am really enjoying it. My boyfriend thought the Voyager series was the best to start with and we plan on watching the other seasons eventually as well. I am a big fan of Mr Tuvok, the Doctor and Captain Janeway, but most of the characters are really likeable and it's fun to see them change, grow and learn.
Sorry for the blog being so quiet, I am a bit figuring out in which direction I want to be headed with the blog. I have gotten a bit more picky with tours and blitzes, I don't just participate in them because I want to fil up an empty spot. But I don't know what to post now. I have decided to keep reviewing Fate Core roleplay books i read here on the blog, because I enjoy reviewing them and so why not share those reviews here? I am also planning on doing more discussion posts or maybe participate in some meme's to have somethign to post, but I am not sure yet.
Also I don't usually share links to other blog posts during my Sunday Post, but I thought it was worth sharing this post by Anna from Herding Cats and Burning Soup where she talks about how authors approach bloggers and it even includes some advice for authors. I think she's saying a lot things that many bloggers are thinking.
Random Picture of the Week: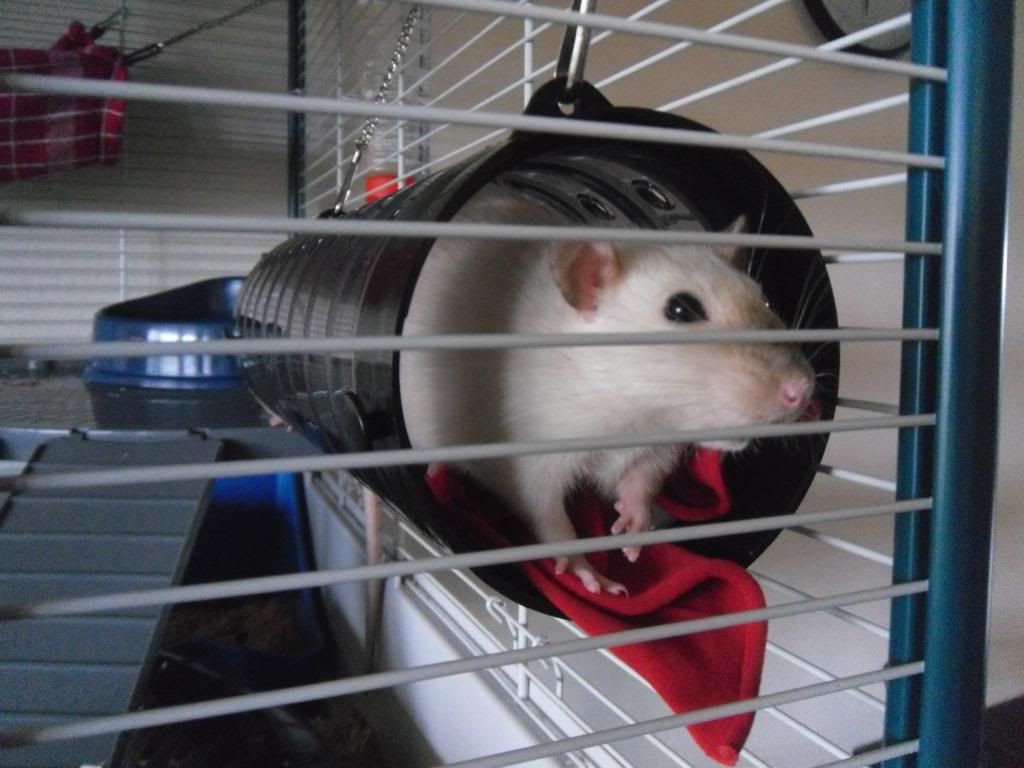 Here's a picture of Skittles, this is right after their cage got cleaned and she was doing a bit of exploring. She had some difficulties getting to the higher parts of the cage, but she did seemed to enjoy this spot.
Games I played this week:
I didn't play any games this week, except for my usual games on my ipad. Every morning I play some Hay Day and wordfeud.
This week I posted about:
– Blog Tour: Little Death by Roe Valentine
– Review: Venture City
What to expect next week on the blog:
– Blog Tour: Upside Down by Lia Riley
– Release day Blast: Hereditary by JA Belfield
– Read Play Blog #1
Tours open for sign-up on Lola's Blog Tours:
– Review Opportunity: Chills: a short story collection by Sahar Sabati – sign-ups open till further notice
– Review Opportunity: Flawless by Jennifer McGill – sign-ups open till further notice
– Review Opportunity: Paranormal Keepers by Jen Naumann – sign-ups open till further notice
– Review Opportunity: The Luthier's Apprentice by Mayra Calvani – sign-ups open till further notice
– Blog Tour: Fairytale Apocalypse (The Verge #1) by Jacqueline Patricks – sign-ups open till 21 September
– Book Blitz: Promises Under the Peach Tree by Joanne Rock – sign-ups open till 1 September
– Cover Reveal: The Understatement of the Year by Sarina Bowen – sign-ups open till August 18
– Cover Reveal: Willows of Fate by Suzanna J Linton – sign-up open till 2 September
– Blog Tour: Willows of Fate by Suzanna J Linton – sign-up open till 2 October
– Blog Tour: On the Move by K.V. Flynn – sign-up open till 30 September
Book Haul:

Serenya's Song (Tallenmere #2)
by Misty Parker
Format: e-copy
Source: for review
You can find Serenya's Song on Goodreads
Blurb:
No one ever said love was easy…
Serenya Crowe may be a half-elf commoner, but she's no ordinary woman. With the ability to interpret dreams, and a birth defect that forces her to wear gloves, she's endured gossip and the cruelty of her husband, Sebastian, The Earl of Summerwind. All she's ever wanted is to live a quiet life and raise a family. When she meets the new stranger in town, her world and her heart, are turned upside down.

Wood-elf Jayden Ravenwing is an ex-secret agent who wants nothing more than to forget matters of the heart. He left the bustle of Leogard and his failed marriage to make a fresh start in Summerwind. He never planned to fall in love again, especially with the enchanting Serenya Crowe.

When a strange portal opens on the Crowe property, Jayden is thrown into an investigation, knowing that if he fails, Serenya and everyone in the town may die.

Together, he and Serenya must overcome an ancient evil, and their own inner demons, to save Summerwind and find the love they've always dreamed of.
Silver Shadows (Bloodlines #5)
by Richelle Mead
Format: paperback
Source: pre-ordered it a while back
You can find Silver Shadows on Goodreads
Blurb:
Sydney Sage is an Alchemist, one of a group of humans who dabble in magic and serve to bridge the worlds of humans and vampires. They protect vampire secrets—and human lives.

In The Fiery Heart, Sydney risked everything to follow her gut, walking a dangerous line to keep her feelings hidden from the Alchemists.

Now in the aftermath of an event that ripped their world apart, Sydney and Adrian struggle to pick up the pieces and find their way back to each other. But first, they have to survive.

For Sydney, trapped and surrounded by adversaries, life becomes a daily struggle to hold on to her identity and the memories of those she loves. Meanwhile, Adrian clings to hope in the face of those who tell him Sydney is a lost cause, but the battle proves daunting as old demons and new temptations begin to seize hold of him. . . .

Their worst fears now a chilling reality, Sydney and Adrian face their darkest hour in this heart-pounding fifth installment in the New York Times bestselling Bloodlines series, where all bets are off.