The Sunday Post is a weekly meme hosted by Kimba @ Caffeinated Book Reviewer.
It's a chance to share News. A post to recap the past week, showcase books and things we have received and share news about what is coming up for the week on our blog.
What happened this week?
This was a fun week! My boyfriend and I went on a short vacation from monday till friday and we had a lot of fun, although it's always good to be home again and sleep in my own bed after those horrible beds in the hotel.
The first day we travelled towards our vacation adress, ate a salad in our room and saw a bit of the scenery on the park itself. Our vacation adress was somewhere in the middle of the Netherlands, so we didn't have to travel that far. The hotel itself was some sort of combination between a hotel and bungalow park. The main house was where you could have dinner, breakfast and lunch. Then there was a park with groups of houses and in each house there where two floors and on each floor someone could stay. We had the top floor of our house.
Here's a picture of the main house where the restaurant was:

And here are two pictures of our block of houses: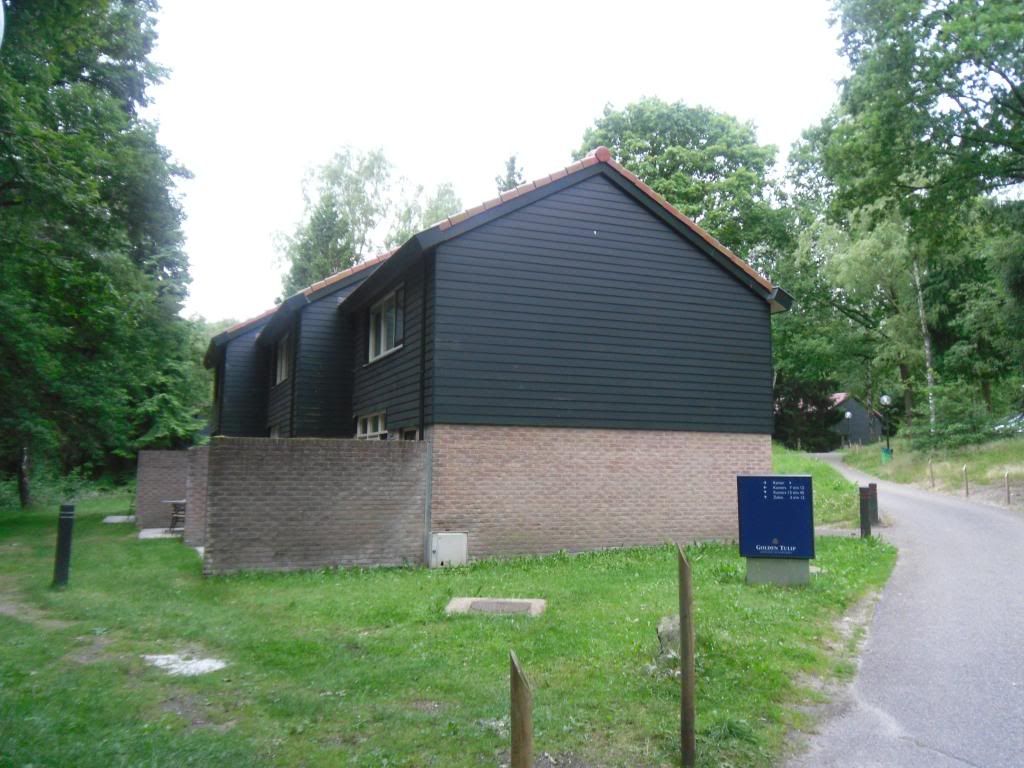 The second day we headed towards the closest big city, Apeldoorn. We were pleasantly surprised by what a nice city it was and we had lunch at a great pancake restaurant. Below is a picture of my pancake with ice cream, wiped cream and banana.

For dinner we found an awesome indian restaurant with delicious food and naan and we ended up eating there the third day as well.

The third day we went to walk a bit in the forest surrounding out hotel, but it turned out it wasn't much of a forest. Every few minutes we stumbled upon another big road and it wasn't as much fun as we hoped. Then we headed back to the city for dinner.
The fourth day we wanted to go and play minigolf in Apeldoorn, but when we arrived at the minigolf park the park was closed. We where a bit disapointed, but we found a nice park close by. The park turned out to be bigger than the forest surrounding our hotel and they had some boars and deers there as well. The boars had piglets and they were so cute!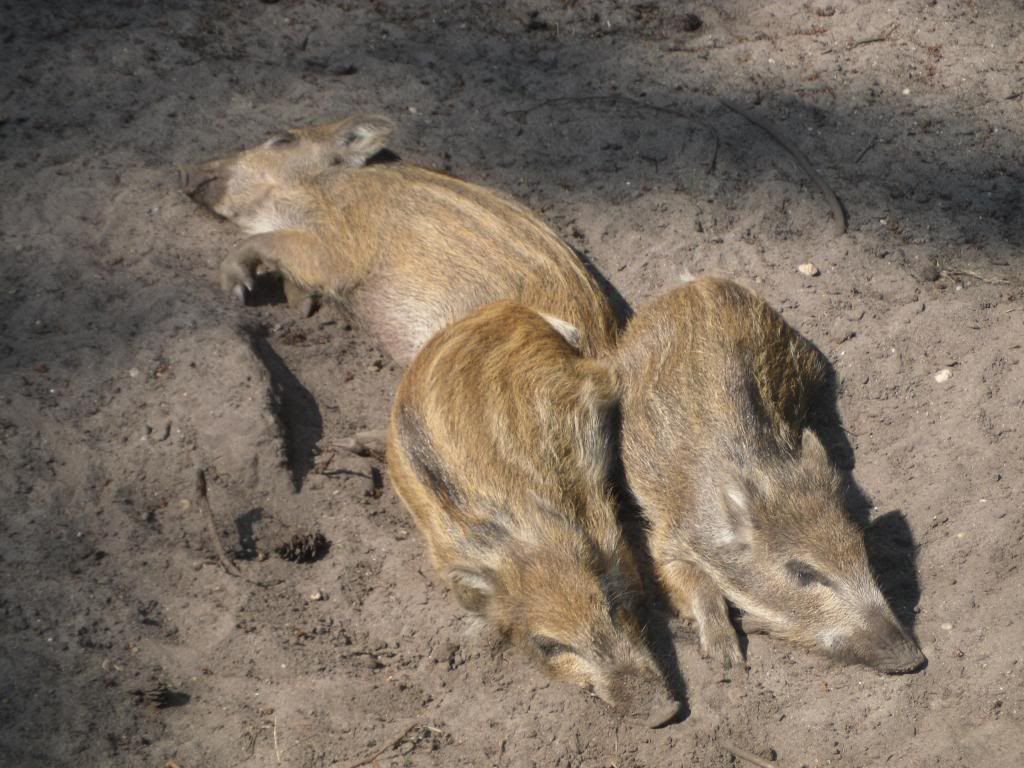 We had an awesome walk there, the forest there was beautiful and it was so quiet, there were hardly any other people around. Here's a picture of the forest/park where we walked.

Then the day after that we left after breakfast and headed home again. I was really happy to be home again and our rats seemed to have missed us, after trying to ignore us for a while.
I got quite some reading done this week and even made some progress for my Coyer challenge. It was quiet on the blog this week though, because I didn't want to spend too much time on the computer beside doing some work. So all in all it was a fun week and I am happy I got some time away from everything and relax.
This week I posted about:
– Blog Tour: Summoned
– Review: The Other Me by Suzanne van Rooyen – 4 stars
What to expect next week on the blog:
– Review: Free Souls (Mindjack Trilogy #3) by Susan kaye Quinn – 5 stars
– Cover reveal: Forget Me Not by Stacey Nash
– Review: Third Daughter (The Dharian Affairs Trilogy #1) by Susan kaye Quinn – 5 stars
– Promo: One Lucky Night
– Review: Claiming Callie by Paige Rion – 2 stars
– Coyer: progress
Tours open for sign-up on Lola's Blog Tours:
– Review Opportunity: Chills: a short story collection by Sahar Sabati – sign-ups open till further notice
– Review Opportunity: Flawless by Jennifer McGill – sign-ups open till further notice
– Review Opportunity: Paranormal Keepers by Jen Naumann – sign-ups open till further notice
– Review Opportunity: The Luthier's Apprentice by Mayra Calvani – sign-ups open till further notice
– Blog Tour: Little Death by Roe Valentine – sign-us open till 3 August
– Cover Reveal: Complexity (Destiny #2.5) by Cindy Ray Hale – sign-ups open till July 14
Book Haul:

Claiming Callie
by Paige Rion
Format: e-copy
Source: for review
You can find Claiming Callie on Goodreads
Blurb:
Her love of Michael Kors might be her downfall.

Callie Cartwright is a college senior on the verge of graduating and getting the job of her dreams. But her illustrious shopping habit and expensive tastes backfire when her future employer gives her an ultimatum. She has less than six months to lower her debt or she'll lose the job she's worked so hard for.

His secret crush may be his undoing.

Dean Michaels has everything going for him. He's a manager at the local coffee shop, a sophomore in college, star of the university basketball team, and don't forget, gorgeous. The only thing he needs is the girl of his dreams to make his world complete. And he's finally ready to go after her. The only problem: it's his sister's best friend he's crushing on. And all she sees in him is the love for a brother.

But desperate times call for desperate measures.

When Callie concocts a crazy plan as a way to make quick money and pay down her debt, Dean's feelings go into overdrive. It's time to show her how he feels.

And the plan he proposes, just might be the one to finally catch the girl.

*Claiming Callie is part one of a series of four serial novellas and is approximately 28,000 words in length (about half the length of a full novel).*
A Lesson in Temptation (A Stanton Family Novella)
by Audra North
Format: e-copy
Source: for review
You can find A Lesson in Temptationon Goodreads
Blurb:
Adam Harkness pulled himself out of poverty to become one of the world's most respected Finance professors, but at the cost of his personal life. When a well-meaning friend gifts him with a dance course, Adam decides to attend one class out of courtesy, but no more than that. He has work to do, after all – or at least, that's what he tells himself.

After being bullied in high school, Julie Stanton took refuge in her studies. But now that her hard work has paid off and Julie has found success in her job, it's time to focus on finding the same happiness in the rest of her life.

When Adam walks into the same tango class that Julie signed up for, she recognizes him immediately as the professor whom she had a crush on in college. Both Adam and Julie have proven themselves to be excellent scholars. But when the attraction between them turns into something more, will they be able to open their hearts and learn a new lesson – how to love.