The Sunday Post is a weekly meme hosted by Kimba the Caffeinated Book Reviewer. It's a chance to  share news. A post to recap the past week on your blog, showcase books and things we have received and share what is coming up on your blog for the week ahead.
This week my sister was at a camping for vacation the whole week, so it was really quiet at home, which is nice for a change. We also went out for dinner, but my boyfriend got sick afterwards, probably something was wrong with the food :(. Also the temperatures went down a bit this week and I am glad it's a bit colder now as we had some really warm weather for the last few weeks.
This week I posted about:
– Cover Reveal: Rekindled Dreams by Linda Carroll-Bradd
– Blog tour: Caged (Holloway Pack #3) by JA Belfield – 4 stars
– Release day Post: A Tale Of Two Centuries (My Super Sweet Sixteenth Century #2) by Rachel Harris
– Blog Tour: Manic (Rook and Ronin #2) by JA Huss – 4 stars
– Cover Reveal: Ruin (A Summer in Winter #1) by JC Scott 
– Cover Reveal: Destiny (Destiny #1) by Cindy Ray Hale
– Cover Reveal: Eden-East (Eden #4) by Janelle Stalder 
– Book Blitz: Camp Boyfriend (Camp Boyfriend #1) by JK Rock
– Review: Then, Again by Karen Stivali

What to expect next week:
– Blog Tour: Switch (New World #1) by Janelle Stalder
– Book Blitz: Dawn of the Apocalypse
Book Haul:
– Jenny's Blue Velvet by Angela Carlie – e-book – for review – Goodreads
– Ghost Hold (PSS Chronicles #2) by Ripley Patton – for review – Goodreads
– Sia by Josh Grayson – for review – Goodreads
And I got these:
3 signed Bookmarks from One More Day. It's an Anthology that will be published by
JTaylor publishing
and I love the cover, so I am really excited to have these awesome bookmarks. Thanks so much to Anna Simpson for sending me these and signing them!
A signed hardcopy book of Renhal (Renhala #1) by Amy Joy Lutchen. I was so excited when this arrived. I love Renhala, you can
read my review here
, and it's so awesome to have it as a hardcopy now. Thanks so much to Amy Joy Lutchen!
And I got a magnet from Golden Dunes of Renhala (Renhala #2) which now sits next to my magnet of Renhala on my fridge. Also thanks to Amy Joy Lutchen for this!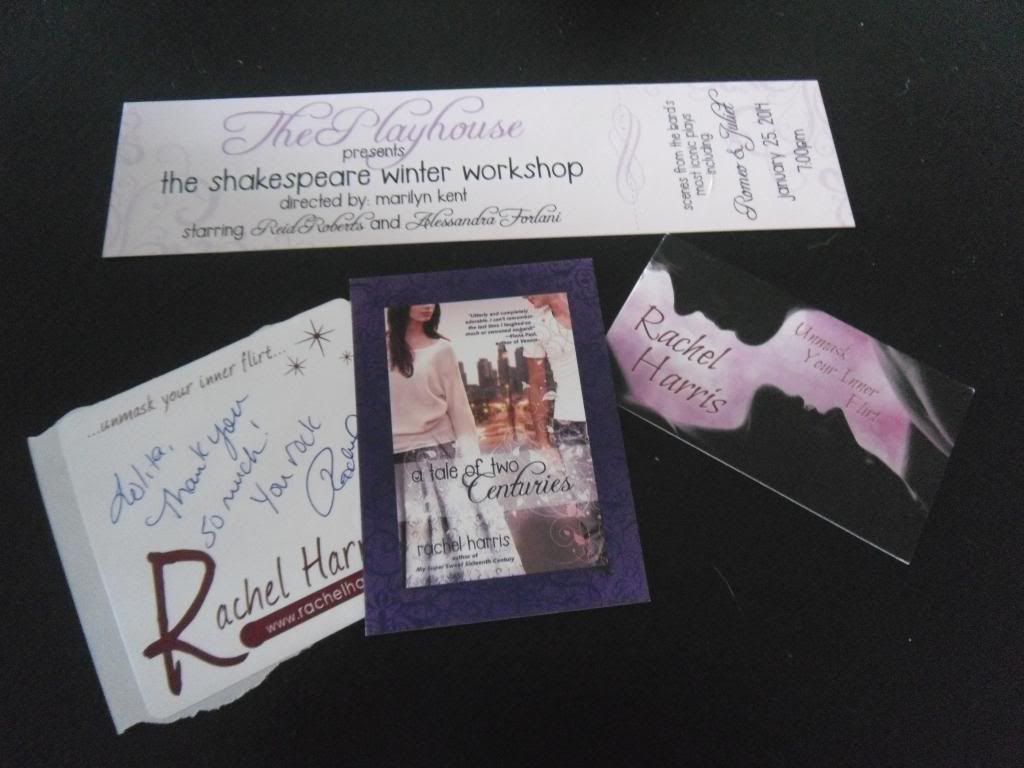 And I got some A Tale of Two Centuries swag from Rachel Harris! Thanks a lot Rachel!
Current giveaways:
– Caged (e-)books and swag. 2 different giveaways!
– Signed copy of A Tale of Two Centuries by Rachel Harris
– Signed copy of Tragic and Manic, custom necklace or JA Huss swag