The Sunday Post is a weekly meme hosted by Kimba the Caffeinated Book Reviewer. It's a chance to  share news. A post to recap the past week on your blog, showcase books and things we have received and share what is coming up on your blog for the week ahead.
I got a job interview this week (I hate job interviews I always get really nervous) and a few days later I heard I didn't get the job. I had some busy days and some bleh days, where I didn't want to do anything. I watched The Hobbit movie with my boyfriend and our 4 rats. And read the last episode in Susan kaye Quinn her epic series the Debt Collector. And I got some awesome swag and a signed copy of Camp Kiss from the awesome writer duo JK Rock. So a week with some really bad moments but also some really good ones.
This week I posted about:
–  Review: Ruthless (Debt Collector #8) by Susan Kaye Quinn
– Cover Reveal: Switch by Janelle Stalder
– Cover Reveal and review: Golden Dunes of Renhala (Renhala #2) by Amy Joy Lutchen
– Review: Passion (Debt Collector #9) by Susan Kaye Quinn
What to expect next week:
– Moon Dwellers birthday Bash by David Estes
– Book Blitz: In Stone by Louise D Gornall
– About Me: Best books read so far in 2013
– Review: Debt Collector Season One (Debt Collector #1-9) by Susan Kaye Quinn
– Cover Reveal: Perry Road by Emi Gayle
– Blogger Interview Saturday: Herding Cats and Burning Soup
Book Haul:
– Faking It (Losing It #2) by Cora Carmack – e-book – bought it myself
– Gifted: a Donovan Circes novel by Liz Long – e-book – got it for free from amazon
– Clutch (I am Just Junco  #1) by Ja Huss – e-book – bought it myself (this weekend on sale for 0.99)
And I mentioned I got a package from the awesome JK Rock? Well here is what I got:
 A signed copy of Camp Kiss! Lots of Camp Boyfriend bookmarks, camp boyfriend temporary tatoos and some awesome swag from other books. Thanks so much Joanne and Karen! 
Want to know more about Camp Boyfriend? You can find everything about them here on
their blog
.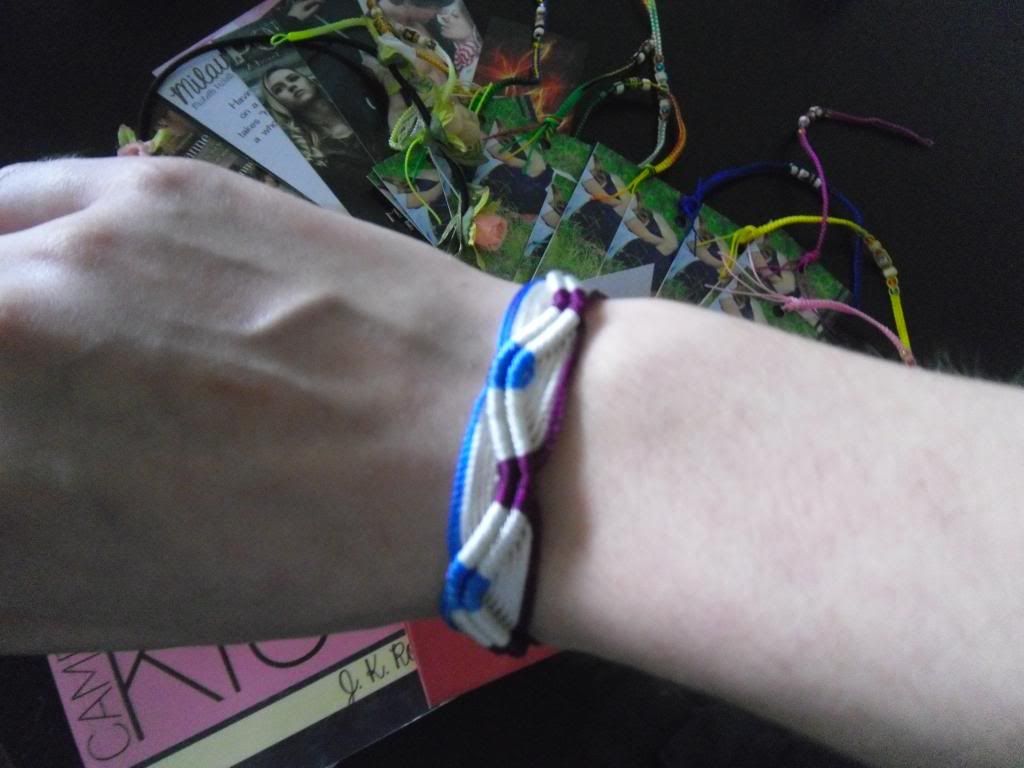 And here is a picture of the awesome bracelet that was also in the package. Pretty isn't it? I love it! I love wearing bracelets in summer, because my arms feel so barren without sleeves, I know it's weird.