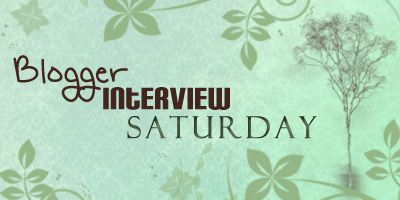 Every Saturday I interview a blogger. This week I interview Rachel from the blog Parajunkee!
Hello Rachel!
Welcome to Lola's Reviews! I am so excited to have you on my blog today. Pretty soon after I started my own blog I came across your blog and I have to say I love your blog. It is the kind of blog how I think blogs should be, you write amazing articles and even get conversations going. I am especially a fan of the blogging 101 posts, but more about that later.
Thanks for having me. I appreciate all the compliments…you've just inflated my ego even more 😉

Why did you decide to start blogging?
That is a complicated answer. I had been employed in Marketing since I graduated (waay long ago) and I was working for an agency that specialized in medical. Real boring stuff. But, social media is in and every Doc wanted a Facebook account and a blog. Even though they had no idea how to use them. This resulted in all heads (during the brainstorming meeting) to turn my way, because I was the resident "figure it out" person. I was used to putting together 20K websites and they wanted me to learn Blogger a free platform. Well, a girl has to do what a girl has to do. I'm also the type of person that likes to teach herself. I don't go to other people…I buy a book, I sit down with a big cup of coffee and I start doing. So, I started blogging to teach myself how to blog. To in turn teach the marketing coordinators how to blog for their docs. The obvious choice was a marketing or design blog. But, boo, that was terribly boring…I wanted to do something that I would have fun writing about, a hobby, not a job. I was always a voracious reader and I had gotten in the habit of writing reviews on amazon of the books I bought  via their site. I put two and two together and that turned out to be Parajunkee's View.
How did you come up with the name for your blog, Parajunkee?
Brainless really. It was my reviewer name for Amazon before they started prompting for "real names." I was in a paranormal kick, so I wanted it to reflect that. Para Junky? Right…but add the ee for originality. I know I won't win any awards with it…but at least it stands out.
How old is your blog now?
August it will be four years old.
What do you enjoy most about blogging?
I'm going through a rough track right now…it used to be I really liked connecting with new readers and other bloggers. But, with everything happening in our community lately, I've sort of pulled back and I've just been really reaching out to my friends that I know I can trust. I do still love going to signings and meeting people face to face…and as always I'm hooked on twitter which I find a great mini-platform for bloggers to hook-up. Overall, though, my favorite part is the tutorial posts that I do, I've found a niche in helping people figure things out. I like how people get excited when I show them something that is relatively easy to do. That is what makes me happy.
What do you enjoy the least about blogging?
You caught me at a bad time with this one. I don't like how plagiarism is the new witch-hunt and people are so quick to scream "bully" if you state your opinion or stand-up for yourself. I don't like how certain groups are exploiting drama just to get pageviews, while I love twitter, its like this mob mentality sometimes. Gets my blood pressure up 😉
How did you decide on this design for your blog?
I have the benefit of being able to change my design anytime I want and do practically anything for it. This particular design was actually inspired by all the design work, Rachel from Fiktshun had me doing. I was actually jealous of all her pretty girls she had me turning into fairies and I wanted my own. Voila.
I really love your blogging 101 posts! The posts are long, but I always read them, because they contain so much valuable and interesting information. Why you decided to start blogging 101?
That was actually from an event I hosted. Me and a few other bloggers that considered ourselves seasoned. I think we were like 6 months old. Really seasoned right? LOL Well we hosted a Big Sis, Little Blog type event, where it promoted start-ups and I would do a design for them and answer any questions they had. We actually brought in everyone that made it to the finals of the contest and started a Ning site where they could ask and get answers from a group of very talented bloggers. When the event was over, I thought it was ridiculous to horde the information so I began posting the forums on my site every Thursday. When I ran out of information, I was hooked. So, I kept the feature going. Thursdays are my most popular days on my blog.
I just found out that besides having a busy book blog, you also run a design shop. What made you decide to start designing graphics for other blogs?
I love designing. It's what I went to college for in the first place, Marketing was just more a necessity when it came to actually holding a job. When I launched my own blog I couldn't just go with a standard template…so I looked around, found things I liked and then created my own. It was obvious it wasn't a stock site, so the questions began. "Who did your design?"  "Well, me", was the response. It was usually followed with: "Can you design mine? How much do you charge?" It sort of just fell in my lap. I had always freelanced, but usually for companies, never for individuals. It was a new take on my design career. I absolutely loved it. Its so wonderful to design for people, that have crazy ideas and SQUEE when they see my proofs, instead of frowning — and going — "I think my logo should be bigger." When they see what I've done. Plus, these designs match my own personal style, so I have fun while doing them. I think designers frame of mind always reflects in their design and being happy with what I'm producing has had an effect on my creations. Everyone seems to love them. A few keep coming back for more. 😉
Thanks Rachel for the interview!
Thanks for having me!
So now you want to visit Rachel and her awesome blog Parajunkee, right? You can find her here:
– Blog
– Facebook
– Twitter
– Google +
– Youtube
– Amazon
– Goodreads