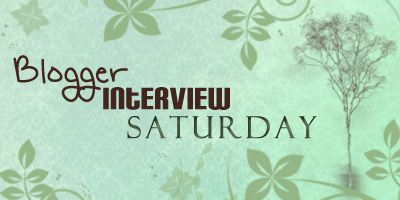 Every Saturday I interview a blogger. This week I interview Krista from the blog Krista's Dust JACKet.
Hello Krista!
Welcome to Lola's Reviews! I am so excited to have you on my blog today.
Why did you decide to start blogging?
It goes without saying that I read a lot. Many times after finishing a book, I want nothing more than to talk to someone about it. I have all these thoughts and theories and usually some serious venting to do. But there is almost no one in real life who has read the same books as I. And, what fun is complaining about characters and stories to someone who has no idea what you're talking about? So, I started my blog, Krista's Dust Jacket, as an outlet – a way to purge my brain of all my thoughts about the books I read. It's been very cathartic. 
How did you come up with the name for your blog, The Dust Jacket?
J-A-C-K are the first initials of the members of my little family. When I had to think of a name for my new blog, I tried to think of a book related word with "jack" in it. My family is important to me, and I try to always remember them in everything I do.
How old is your blog now?
I just celebrated my first blogoversary on January 2, 2013!
What do you enjoy most about blogging?
The part I enjoy the most is connecting with others who share the same love of books that I do. When I started this blog, I had no idea there was such a large book blogging community out there. I just wanted an outlet to regurgitate my bookish thoughts. But, as I started writing and exploring other blogs, I started learning about so many books that I should be reading, conversations I should be having, people I should be meeting. It's been a fun ride. 
What do you enjoy the least about blogging?
I swore in the beginning of all this that the number of followers, pageviews, etc. didn't matter to me. I was doing this to talk about books and to write. That's it. But, honestly, it's nearly impossible to NOT care about those things. And that stresses me out sometimes.

How did you decide on this design for your blog?
I have a secondary love of photography. The background picture on my blog at present was taken by me. I believe it's one of my Harry Potter books, actually. After a year of looking at the same design, though, I have grown tired of it, and I do plan a new design sometime in the next month or two.

I noticed that some of your posts have a number before the book title, like book #141: Scent of Magic, but others don't. Can you explain why some of your book reviews are numbered and others not?
The first year of my blog, I set out to write about every book I read, in the order that I read them. To keep track of where I was at, I numbered my review posts. Now that I'm past my first year, I don't feel as if I need to keep track of the books I read in order any longer. I'm going to write about books on a more flexible schedule, interspersing my review posts with memes, giveaways and other fun things.

Thanks Krista for the interview!
Absolutely, Lolita! And good luck on your new blog this year!
You can find Krista and her blog here:
– Blog
– Facebook
– Twitter